Addiction Treatment Modalities
River Oaks uses treatment modalities that are based in research and have been shown to be beneficial for drug and alcohol treatment. We currently use the following research-based treatment modalities in our addiction and recovery programs:
Motivational Interviewing (MI)

Most individuals who struggle with addiction are aware that their harmful behavior is dangerous but continue the substance abuse nonetheless. This ambivalence is normal. To assist in changing dangerous behaviors such as drug or alcohol abuse, Motivational Interviewing can help the client move from ambivalent feelings about addiction and/or treatment to a state of genuine desire for change and readiness for treatment.

Cognitive-Behavioral Therapy (CBT)

Our therapists work with clients using CBT techniques that are goal-directed and solution-focused. CBT allows the therapist to work with the client and examine how negative thought patterns and feelings affect or drive unhealthy behavior, such as substance abuse. One goal of CBT is to help the client eliminate or phase out unhealthy thinking that may drive self-destructive behaviors and replace it with healthy, rational thought patterns.

Rational Emotive Behavior Therapy (REBT)

Many times individuals hold irrational beliefs that can result in negative emotions and behaviors. By using REBT techniques, our therapists work with the client to identify the irrational thinking that causes distress. Like CBT, REBT teaches the client to recognize the automatic, recurring negative thought patterns and replace them with productive, rational beliefs and thinking.

Eye Movement Desensitization & Reprocessing (EMDR)

Besides EMDR's effectiveness in treating addiction and co-occurring disorders it benefits individuals with significant trauma-exposure by aiding in symptom reduction and improving emotional stability. EMDR may be clinically appropriate for the client with PTSD or a personal history of sexual assault, wartime violence, natural disasters, domestic violence, or other traumatic life events.

Seeking Safety (And other Trauma-focused therapies)

At select AAC facilities, we offer different trauma therapies that include Seeking Safety. This program is appropriate for the client suffering from addiction and co-occurring PTSD and was developed by Lisa M. Najavits, PhD. Trauma-informed therapies are beneficial for the client with a history of trauma exposure such as sexual assault, domestic violence, wartime violence, and natural disasters.
River Oaks Treatment Center Photos
Start Your Recovery
Story Today.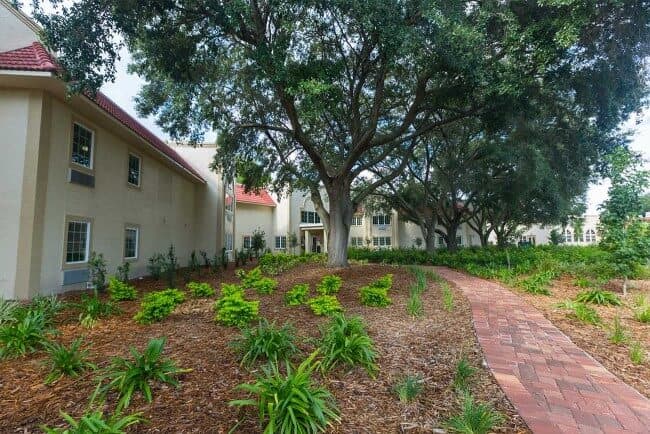 River Oaks Amenities
Housekeeping Services
To help our clients focus on treatment, River Oaks provides housekeeping for residential rooms and common areas.
Gourmet Meals
Our dining area at River Oaks is a warm and welcoming environment where clients are served delicious gourmet meals by our talented dining staff. We will accommodate clients who require special meals for medically necessary diet requirements.
Indoor & Outdoor Facilities
Our whole person treatment approach includes an overall physical and spiritual wellness achieved by activity and meditation. River Oaks encourages clients to participate in yoga instruction or use our indoor fitness equipment. The equipment in this area allows clients at all fitness levels to work on their cardio, strength, and flexibility. Outdoor options include spending time on our tennis and basketball courts, walking, and running. Our personal trainer can help clients identify realistic health goals and a customized fitness plan.
Equine Therapy
In addition to individual, group, and family therapy groups, River Oaks offers Equine Therapy. Many individuals struggling with addiction and co-occurring mental health disorders such as PTSD benefit from the positive, non-judgmental interaction with horses.
Spa Services
During their treatment program, clients are able to enjoy spa amenities at River Oaks. Certain amenities are included as a part of the client's treatment stay and other services are available for an additional fee.