What to Expect During Rehab at River Oaks
Getting to River Oaks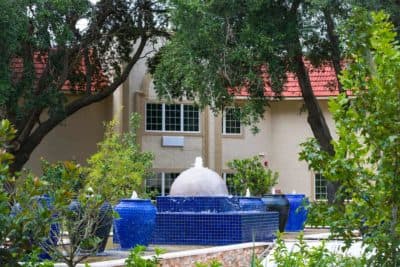 The nearest airport to our facility is the Tampa International Airport (TPA), which is about 25 miles away (or a 45-minute drive). In most cases, our admissions navigators (available at ) will be able to find you a flight into Tampa International Airport. If, however, you are able to find a better flight option, please be sure to let us know.
Rehab Transportation Services
We will arrange transportation for you from the airport to our treatment facility. Other travel-related information can be found below.
Nearby Airports, Train/Rail Stations, and Bus Stations:
Tampa International Airport (TPA) – about 25 miles
Boyette Road @ McMullen Road (Bus stop, 24 line) – 0.6 miles
Route 24 Limited Express (Bus Line)
Nearby hotels:
Riverbend Retreat – About 3.5 miles
Palmer House Bed and Breakfast – 11 miles
Hilton Garden Inn Tampa/Riverview/Brandon – about 8 miles
WoodSpring Suites Tampa Brandon – about 8 miles
RV accommodations:
Oakside Mobile Home Park – 2.5 miles
Rice Creek RV Resort – About 5 miles
Hidden River RV Resorts – about 2.5 miles
Your First 24 Hours at Rehab
Your first 24 hours at River Oaks is all about getting a good overall picture of your needs. Our intake department is made up of registered nurses who will perform your nursing and medical health assessment when you arrive.* They will work with the on-call physician to determine the appropriate level of care for your needs.
By the end of your first 48 hours at River Oaks, you will have received a psychiatric evaluation as well.
Many patients will begin their time in treatment in medical detox, during which they may also begin participating in group sessions.
Certain COVID protocols may apply for new admitting patients. 
*River Oaks staff will work with patients as quickly as possible during intake; however, the process takes time and must be completed before patients are fully admitted. 
What to Bring to Rehab
We advise bringing the following items with you when you come to stay at River Oaks:
Two weeks worth of casual, comfortable clothing appropriate for Florida weather.
Workout clothing.
Personal hygiene items (all of which must be alcohol-free).
Picture ID.
Insurance cards.
Appropriate reading material.
Any medications you need. Please include a list with the name, dose, frequency and prescriber or pharmacy contact information for any current medications. Over-the-counter medications must be approved by a physician.
What NOT to Bring to Rehab
Naturally, there are certain items we discourage clients from bringing to the facility. We suggest that items of a very personal nature, as well as expensive items, are left at home to avoid loss or damage.
Other items we ask that clients not bring to our facility include:
Guns, knives, fireworks, or any item of potential danger that may be commonly used as a weapon.
Alcohol or drugs.
Outside food, candy, drinks, etc.
Outside vape products. (You can purchase a vape at the facility for $15.)
Revealing clothing, clothing with alcohol or drug logos or messages, etc.
Televisions.
Magazines, books, or videos with sexual content.
Aerosol cans.
Pets, unless it is an ADA Service Animal that has been approved prior to admission.
Stuffed animals, blankets, bedding, etc. (Bedding will be provided.)
Can You Have Your Phone in Rehab?
While you may bring your cell phone or other approved electronic device, in order to ensure a safe and therapeutic environment, and to protect the privacy of our patients, the use of cell phones and other electronic devices may be restricted during certain levels of care and treatment times. To learn more, please visit our our cell phone and electronics use policy page.
What Types of Grooming Products are Allowed?
Patients often like to have their own shampoos, conditioners, soaps, etc., and we allow any alcohol-free grooming products and products that cannot be used as weapons.
Are Laundry Facilities Available?
At River Oaks, a concierge laundry service is available. Your laundry will be retrieved once a week, and our staff takes it to the laundry room, washes it, and returns it to you.
We recommend leaving sentimental or expensive clothing that requires specific care at home, as we have large, industrial washing machines that may damage very delicate clothing.
Inpatient/Residential Rehab at River Oaks
Your days in residential treatment at River Oaks will be structured and you will be able to benefit from the comfort and stability of being in a 24-hour facility.
After you begin drug or alcohol detox or residential rehab, a typical day in treatment will start with a town hall meeting, which will include the welcoming of new patients to the program, talks from individuals who are graduating, and readings from 12-step inspirational books. You and your fellow program members will set the tone for the day and discuss what you intend to work on.
After that, you will attend morning groups with our licensed therapists following the specialized American Addiction Centers (AAC) curriculum.
This is often followed by process groups, in which you will focus on your progress to date and your goals. Lunch and some personal time will follow. The afternoon will consist of additional group sessions.
There is also an opportunity for you to spend time in our fully-equipped gym or to participate in indoor or outdoor activities. Evening will include dinner, on- or off-site 12-step meetings, and a wrap-up meeting.
Weekends can be a bit different, as individuals in the right phase of treatment can participate in off-site activities in the Tampa Bay area or be visited by their family members.*
*Off-site activities and family visits may be limited due to COVID. 
Our Exclusive Rehab Curriculum
Throughout the week, you will also receive some homework as part of the AAC curriculum which includes Embracing Change: Recovery for Life. You'll be given a workbook you'll use during your time at River Oaks. You'll complete any assignments independent but in some cases you be may be encouraged to share your work during individual or group therapy.
Our curriculum will help you to gain certain skills, such as recognizing triggers, managing stress, and reciting helpful self-talk, that are necessary for a successful life in recovery.