The VA offers many essential services and programs to those who have served our country, including services that provide addiction treatment. However, it is not always clear how to access such programs, especially if veterans do not live near a VA facility.
This article explains how the MISSION Act gives veterans the option of receiving care from a community care provider (CCP).
The VA's MISSION Act: Better Access to Healthcare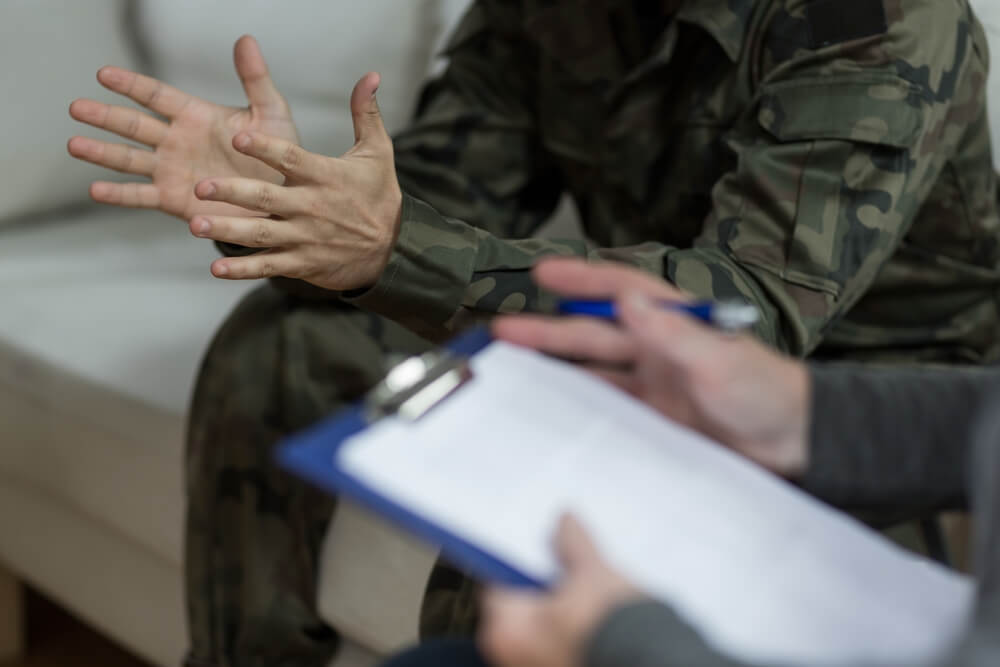 The VA's MISSION Act is a 2018 law that allows veterans to access care through VA facilities and in the community to increase and improve the health care they receive.1 It also extends services to caregivers of veterans in the form of respite care services, telehealth, training, education, self-care classes, stipends, and access to mental health services.2
The MISSION Act was put into place after a previous program, the Veterans Choice Program (VCP), expired in June of 2019.3 The VCP allowed veterans to access care via community providers if they experienced barriers to receiving services directly at a VA facility.3
Veterans who were eligible for the VCP may also be eligible for community care under the MISSION Act. If you were utilizing the VCP, contact your VA provider or a staff member at your local VA facility so that you can continue to receive the community care that is necessary for your wellbeing.3, 4
Under the MISSION Act, veterans can receive healthcare services at VA facilities and from CCPs if certain conditions are met.5 Before receiving care from a CCP, veterans need to receive approval from the VA.5 Furthermore, certain eligibility criteria must be met for a veteran to use CCPs.5 The following section further explores CCPs and how you can use them for treatment.
Community Care Providers Fill the Gaps for Substance Abuse Rehab
CCPs are facilities in the community, other than the VA, that can provide services to veterans.5
The first step to using a CCP for your care is to find out whether or not you are eligible. If 1 of the following 6 criteria are met, you may be eligible to use a CCP: 5, 6
You need a service that the VA does not provide.
You live somewhere within the U.S. with no full-service VA facility.
You were eligible for community care due to the distance criteria under the VCP.
Going to a CCP is in your best medical interest.
Care received at the VA does not meet certain quality standards.
The drive time and/or wait time for getting a VA appointment exceeds standards set for accessibility.
The VA will determine whether or not you are eligible for using a CCP, and then someone associated with the VA will help you schedule an appointment.5 A search tool on the VA website allows you to look up CCPs in your area to research eligible local providers.7
CCP Facilities in the American Addiction Centers Portfolio
Although River Oaks Treatment Center is not a CCP, it is an American Addiction Centers treatment facility, and the American Addiction Centers network includes other facilities that are CCPs.
Desert Hope Treatment Center is one such facility. This CCP, located in Las Vegas, Nevada, offers its Salute to Recovery Program, geared specifically toward veterans. It helps veterans who are struggling with both mental health disorders and substance use disorders. It offers a variety of services and treatment techniques, including:
Individual therapy.
Couples therapy.
Group therapy.
Anger management.
Trauma-specific therapy techniques such as eye movement desensitization & reprocessing.
Veterans participating in this program follow a weekly schedule that incorporates these, and many other services and techniques, to provide a well-rounded treatment approach.
Another CCP in the AAC portfolio is a similar Salute to Recovery program at Recovery First, located in Hollywood, Florida. This program also offers assistance to service members who are struggling with a combination of substance use and mental health concerns. Recovery First also provides a wide variety of services and techniques, such as individual therapy, family therapy, and cognitive-behavioral therapy, to provide an effective treatment approach.
While CCPs are a great way to access essential healthcare, veterans can also receive addiction treatment and other services directly from VA facilities.
The VA's Options for Treatment
The VA provides a wide variety of key healthcare services, including treatment for mental health and substance use disorders. A veteran can even complete addiction screening online from the comfort of their own home, before even stepping into a VA facility.8
Completing the online screening can provide the insight needed to help you determine your next steps. One of these important steps might include contacting a staff member at your local VA facility and participating in the important addiction treatment services the VA has to offer.
Services offered at the VA include:9
First-time screening for substance use.
Outpatient therapy.
Outpatient substance use treatment.
Residential treatment.
Safe detoxification (medically managed).
Continuing care.
Relapse prevention.
Access to support groups.
Drug substitution therapies/medication to reduce cravings.
Alcohol rehabilitation for veterans.
Professional providers at the VA will assess each veteran and develop a treatment plan based on that assessment. This process helps to determine which of these services, or combination of services, will be used.9
The VA also provides an online resource that assists with locating substance use disorder programs, such as VA rehabilitation centers and VA alcohol rehabilitation programs, throughout the United States.10 The Substance Use Disorder Program Locator allows you to search for programs by state, making it easy and convenient to research programs that you feel would be the best fit for you or a loved one. Some programs offered may even be for specific branches of the military, such as Army substance abuse programs.
While the VA offers many valuable services to veterans, there are also many challenges and barriers to accessing these services, such as funding issues, long waitlists, or absence of a local VA facility.
However, despite these challenges, it is still extremely important that all veterans have access to these much-needed services, especially those that provide treatment for addiction. Therefore, the MISSION Act and CCPs are essential, as utilizing them is one way to overcome these challenges and ensure that veterans are getting their needs met.
References: