Outpatient Addiction Treatment Near Tampa, FL
Our outpatient drug and alcohol rehab program in Riverview, Florida, near Tampa offers flexible substance use disorder treatment in an ideal setting. Patients who complete a residential rehab program at our addiction treatment facility can easily step down into outpatient rehab program to keep working toward their recovery goals and receive continued support in their journey.

Outpatient Rehab Programs
Outpatient drug and alcohol rehab programs may be ideal for people that have reliable transportation to and from our outpatient addiction treatment facility near Tampa, don't have serious co-occurring disorders that would necessitate 24-hour supervision, and either don't need medical detox or have completed it already.1,2,3
The partial hospitalization programs (PHP) and intensive outpatient programs (IOP) at River Oaks are offered as "step-down" levels of rehab care for patients that have completed a residential addiction treatment program and wish to continue their recovery in an outpatient setting.
At River Oaks, we also offer a virtual community IOP program. Sessions are held online Monday–Friday from 9 a.m.–noon. To learn more about telehealth addiction treatment at our facility, call us at .
The IOP and PHP at our outpatient rehab facility near Tampa use evidence-based therapies in both individual and group formats. The types of therapy used in outpatient addiction treatment programs are designed to help you:4
Shift from negative thought and behavioral patterns to healthy patterns.
Recognize and avoid triggers that lead to substance use.
Become motivated and invested in sobriety.
If you are suffering from an opioid or alcohol addiction, another evidence-based treatment that may also be used is medications for these disorders (e.g., Suboxone, naltrexone, or disulfiram).5
In a PHP or IOP at our Riverview, FL outpatient addiction treatment facility, you'll also work to prepare for life after rehab. Our case management team will work with you to create a rehab aftercare plan that works with your lifestyle. Steps may include facilitating entry into 12-Step programs and other forms of peer support. Through the Alumni App, you'll stay connected to your peers, track milestones, keep a journal, and learn helpful wellness tips. River Oaks will reach out to you at certain milestones to check up on you for 2 years after treatment.
Reviews of River Oaks Outpatient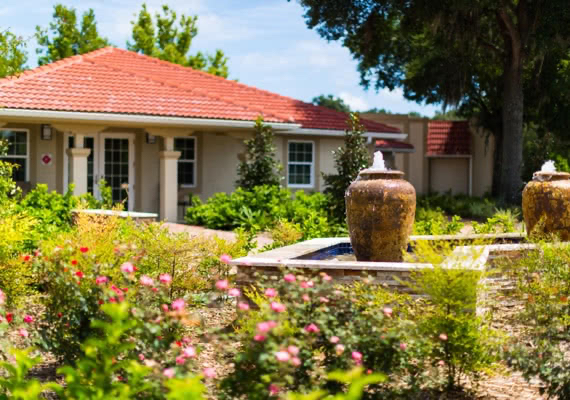 Explore Our Outpatient Rehab Facility
River Oaks' outpatient treatment facility in Riverview, Florida near Tampa, is an ideal location for you to be in early recovery. Closely located to the inpatient/residential addiction treatment program, the transition from a higher form of care to a lower level of rehab is made easy, and you may stay in treatment with many of the sober connections you made in residential care.
The spacious Riverview, Florida outpatient addiction treatment center enables you to spend free time between session blocks enjoying the sublime Tampa weather and connecting with your peers.
Address: 12018 Boyette Road, Riverview, FL
Health Insurance & Paying for Outpatient Rehab
Most insurers in the Tampa metro area and across the U.S. are required to provide coverage for substance use and mental health treatment to some extent, and if they do provide it the coverage must be equivalent to medical/surgical It's important to find a treatment center that is within your insurer's healthcare network, as these facilities contract directly with your insurer to provide treatment at a lower cost.11
River Oaks in Riverview, Florida accepts many major insurers, including:
To see if your insurance plan is accepted at our outpatient drug and alcohol rehab facility near Tampa, complete and submit the confidential or call an admissions navigator at . You'll need to know the name of your insurer and your insurance policy number.
Some insurance companies may require that you obtain preauthorization from your primary care provider (PCP) before you undergo treatment.12 Admissions navigators at River Oaks will help with this process.
With or without insurance, the cost of addiction treatment can be a concern. There are ways to pay for rehab that can make out-of-pocket costs manageable, such as taking advantage of the financing options offered by River Oaks.
If you've lost control of your drinking or drug use, it's not too late to turn your life around. Please call us at to discuss how our treatment programs can help you start over.
Check if you qualify for financing by completing the following questionnaire.
Frequently Asked Questions
What does outpatient addiction treatment entail?
Outpatient rehab at River Oaks is a form of addiction treatment in which patients visit the facility multiple times a week for several hours or more of treatment which includes evidence-based forms of behavioral therapy, psychoeducation, and peer support.1,2,3 Medication-assisted treatment (MAT) may be used when necessary to treat persistent cravings and withdrawal symptoms.13
What's the difference between inpatient and outpatient rehab for addiction?
Both inpatient and outpatient rehab use many of the same evidence-based forms of treatment; however, inpatient care requires you to stay at the facility 24/7 to participate in all-day programming, which may include groups, meetings, and classes as well as recreational activities and personal time for reflection.3
What's the difference between standard outpatient, IOP, and PHP for addiction treatment?
Outpatient treatment has various forms. The main difference between these types of treatment is their time-intensiveness:
Standard outpatient care may only involve 1 or 2 outpatient visits per week (or only as often as needed).
Intensive outpatient programs (IOPs) provide a minimum of 3 days of treatment per week for at least 3 hours a session.
The partial hospitalization program (PHP) at River Oaks involves treatment 5 days a week in 6-hour session blocks.2,14
River Oaks patients work with their treatment during residential care to decide which type of outpatient treatment will be the right level of care for them to step down into.
What happens after the outpatient portion of rehab?
Everyone's path to recovery is different. Many people that complete outpatient rehab benefit from a continuing care program such as Alcoholics Anonymous (AA), Narcotics Anonymous (NA), or other forms of peer support.15 Case managers at River Oaks will ensure you're set up for success before you leave outpatient rehab, facilitating connections with community programs, recovery groups, and your fellow alumni.
How long does outpatient rehab last?
Everyone has different needs in addiction treatment, and the ideal duration of treatment should be tailored to address these needs, whether that means short-term rehab, 30-day rehab, or long-term addiction treatment.4 Research has shown that treatment is more likely to be effective when it lasts an adequate amount of time for that person, and for most people that means 90 days or more.4 If you are treated for 90 consecutive days at River Oaks (at any level of care or combination of treatment types), you'll qualify for the our brand promise. This means may be able to receive a supplemental 30-day treatment program at River Oaks or another American Addiction Centers facility should you suffer a relapse.
How do I start outpatient addiction treatment?
Contact a River Oaks admissions navigator at to start treatment as soon as possible. Admissions navigators are standing by 24/7 to answer questions about treatment and guide you through the process of getting insurance to cover rehab. Upon admission to River Oaks, staff will perform an evaluation before outlining a treatment plan specifically tailored to your needs.