Sarasota Rehab & Addiction Guide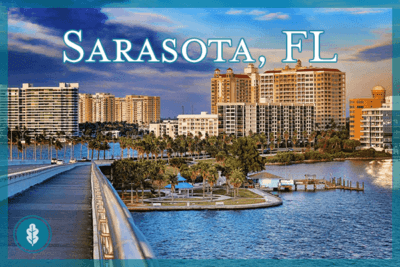 A thriving Gulf Coast city that prides itself on culture, a beautiful natural environment, and diverse dining, Sarasota is located in southwestern Florida in the county of the same name. Home to stunning beaches and tropical weather, Sarasota has also been plagued by substance abuse and 
mental health issues
 just as the rest of the country has.
The 2015 Community Health Assessment for Sarasota County reports that poor mental health indicators are increasing in Sarasota County while state averages remain constant. Binge drinking rates are on the rise in Sarasota County, and access to behavioral health services is a source of public concern. Overall, the public believes that the services available to residents are adequate; however, there is a perceived need for more treatment providers and better access to care.
In general, the Behavioral Health Barometer: Florida, 2015 publishes that Floridians are below national averages for rates of drug abuse and addiction, alcohol abuse and addiction, and serious mental illness (SMI). Approximately 6 percent of Florida residents battled alcohol abuse or addiction per year between 2013 and 2014 compared to a national average of 6.5 percent. In addition, 2.4 percent of Florida residents struggled with drug abuse or addiction versus a 2.6 percent national average. Florida residents battling SMI between 2013 and 2014 numbered 3.7 percent per year as opposed to a 4.2 percent national average.
A Decline in Pill Mills and a Rise in Illicit Opioids
Less than a decade ago, Florida was labeled the unofficial "pill mill capital" of the world with 856 pain clinics in operation in 2011, the Tampa Bay Times reports. There was enough oxycodone being shipped into the state for every resident to have at least 34 pills. Overdose deaths due to prescription opioids were skyrocketing, and addiction to these potent medications was rampant. Shady doctors were prescribing these dangerous medications left and right regardless of medical need.
In 2010, in response to the rampant abuse and diversion of OxyContin (oxycodone), the manufacturer of the drug, Purdue Pharma, reformulated OxyContin to make it harder to abuse. When crushed, the new formulation would turn into a gooey mush instead of a powder that could be easily dissolved and injected.
Law enforcement officials stepped up their game as well, working to close down Florida pill mills and making it harder to obtain prescription opioids illicitly. In 2009, the Sarasota County Sheriff's Office (SCSO) instituted the Pharmaceutical Diversion Investigative Unit to minimize "doctor shopping" and prescription drug fraud. Florida instituted a prescription drug monitoring program (PDMP) called E-FORSCE (Electronic-Florida Online Reporting of Controlled Substances Evaluation) to track the prescription and distribution of these medications. Perhaps as a direct result of these efforts, rates of prescription drug abuse, addiction, and overdoses have gone down.
As abuse of these prescription opioids has declined, abuse of illicit opioids like heroin and fentanyl is steadily increasing. The Florida Department of Health reports that after a spike in 2010, over the next five years, overdose deaths and treatment admissions for oxycodone (and other opiates) abuse and addiction went down, only to be replaced with a spike in heroin overdose deaths and addiction treatment admissions. According to WFLA, in the first several months of 2017, there have already been 15 deaths and 99 heroin overdoses in Sarasota County alone.
Another alarming trend is the introduction of the extremely potent opioid drug fentanyl, deaths from which are also on the rise. Sarasota County ranks second in the state for number of fentanyl-involved deaths. Fentanyl is a synthetic opioid that can be created illicitly in a lab and laced into heroin and other opioids, even without the knowledge of the person taking it. It is close to 100 times more potent than morphine and can be deadly in small doses.
In 2016, Florida recorded the most overdose deaths in the nation with over 5,000 fatalities, UPI publishes. In 2015, there were significant increases in overdose deaths involving heroin, morphine, fentanyl, and cocaine for District 12, which includes Sarasota, Manatee, and Desoto counties, the Bradenton Herald reports.
Illicit drugs like heroin, cocaine, and fentanyl may be cheaper and more accessible than prescription drugs in Florida, and this may be contributing to the increase in overdoses.
The Centers for Disease Control and Prevention (CDC) warns that overdose fatalities in Florida jumped over 20 percent from 2014 to 2015.
Community Substance Abuse & Mental Health Services Sarasota, FL

Florida has a 911 Good Samaritan Law in place to protect individuals who seek help for an overdose (either for themselves or for someone else). This law protects the person reporting the overdose from prosecution for drug-related charges, the Network for Public Health Law explains.
Florida legislators also passed House Bill 751, or the Emergency Treatment and Recovery Act, to expand access to the opioid overdose reversal drug naloxone. This bill allows prescribers to dispense naloxone to anyone in contact with someone who is at risk for an opioid overdose. It also protects individuals who dispense the drug to attempt to reverse an overdose. First responders were also granted expanded access to naloxone.
Florida laws include two provisions that allow for involuntary commitment to treatment when needed: the Marchman Act and the Baker Act. The Marchman Act allows family members and loved ones to seek help for an individual who is struggling with substance abuse issues, while the Baker Act serves to protect people from self-harm and aids in treatment facilitation for mental health concerns.
In Florida, the Opioid State Targeted Response Project is an effort to improve education, prevention measures, treatment, and recovery services for Floridians battling opioid abuse and addiction. The goal is reduce opioid overdose deaths and minimize prescription opioid misuse in general. Additional efforts include two locations in Sarasota where people can drop off unused prescription medications to prevent drug diversion and abuse.
The Substance Abuse and Mental Health (SAMH) Program, under the Florida Department of Children and Families (DCF), manages the statewide system of care for both mental health and substance abuse issues. In Florida, mental health and substance abuse treatment services are provided by licensed community-based providers overseen by DCF. Mental health services are completely privatized and community-based. Public funds are granted to eligible and state-licensed private behavioral health treatment facilities to provide state-regulated services, which increases access to care regardless of a person's financial situation.
Some resources for treatment services in Sarasota, Florida, are outlined below:
The Central Florida Behavioral Health Network is the local provider of public behavioral health services for residents of Sarasota County.
To find local behavioral health services based on zip code and type of service, Sarasota residents can use the Substance Abuse and Mental Health Service Administration's Behavioral Health Treatment Services Locator.
The Community Health Improvement Partnership (CHIP) serves Sarasota, DeSota, Manatee, and Charlotte counties, providing prevention information and educational resources.
Preventative and educational resources are offered by the Sarasota Coalition on Substance Abuse (SCoSA) to help reduce and minimize substance abuse within the local community.
DCF provides a listing of local Prevention Coalitions by county.
Local nonprofit community health centers provide publicly funded mental health care via contracts through the DCF Mental Health Program Office.
There are many certified recovery residences throughout Florida where residents may obtain transitional and recovery support services.
Tobacco-Free Florida is a statewide tobacco use prevention and public education program designed to outline the dangers of cigarette smoking and tobacco use.
Crisis Support Information is hosted by DCF and provides multiple local hotlines residents can call for suicide prevention and immediate help.
The Suicide Prevention Coordination Council and the Statewide Office for Suicide Prevention serve to heighten public awareness of suicide and aid in prevention.
The Alcoholics Anonymous (AA) Central Office of Sara-Mana offers information on local 12-Step meetings in Sarasota.
Suncoast NA (Narcotics Anonymous) serves Sarasota and the surrounding area, offering recovery support and information on local groups and self-help meetings.
Join the Recovery Community
Let us help you get started with the rest of your life! Retreat to the sunny climate of Tampa, Florida for a stay at the gold standard of treatment facilities. We offer customized care plans to help you on your recovery journey.