Addiction Treatment and Rehab Options in Brandon, Florida
Fatal overdoses in Hillsborough County have increased by 43% since the beginning of the COVID-19 pandemic.1 The majority of fatal drug overdoses involve opioids such as heroin, fentanyl and prescription painkillers.2
For the residents of Brandon, Florida, and Hillsborough County, there is help available. Should you or a loved one struggle with drug or alcohol addiction, the following resources will guide you through finding rehab centers near Brandon, FL.
Drug and Alcohol Rehab Near Brandon, FL
Drug and Alcohol Rehab Near Brandon, FL
Addiction treatment will vary from person to person, depending upon several factors. Upon entering treatment, medical staff will perform an assessment of the patient, asking questions about the type of substance(s) used, amount and duration of use, co-occurring disorders such as depression or anxiety, health issues, motivation for treatment, and more. Based upon these answers, they will develop a treatment plan specific to the patient's needs.
Types of Addiction Treatment Available Near Brandon, FL
Different types of treatment include:
Medical Detox. Withdrawal symptoms can be uncomfortable, and for some substances such as alcohol, may be life-threatening. In medical detox, clinicians monitor the patient 24/7 to ensure a safe and comfortable transition to sobriety.
Inpatient Treatment. This is recommended for those who have severe substance use disorders or struggle to maintain sobriety in their home environment. Inpatient treatment provides structure, a predictable daily schedule and requires that the patient lives in a substance-free treatment facility for a predetermined length of time.
Partial Hospitalization Programs (PHP) PHP requires that the patient attend therapy and treatment for several hours each day, five days per week. However, it does not require the patient to live at the facility.
Intensive Outpatient Programs (IOP). With fewer treatment hours per week than PHPs, IOPs are less intensive but still provide an effective treatment path for those struggling with addiction.
Standard Outpatient Therapy. Outpatient therapy, which may occur as infrequently as one time per week,  is effective for those who have completed inpatient rehabilitation or for someone with less severe substance use disorder.
Choosing The Right Rehab Facility for Your Situation
Upon making the decision to enter addiction treatment, it is critical to find a rehab center near Brandon, FL that suits your needs. As you begin your search, it's important to keep the following criteria in mind:
Program accreditation. A facility should be accredited, which means they have fulfilled all requirements and undergone an evaluation to ensure they meet the standards of care of the state and of the accrediting bodies.
Staff credentials. These ensure that the staff is qualified to administer treatment and has met rigorous standards for licensure and certification.
Payment options. These can include utilizing your health insurance coverage, working with facilities on flexible payment plans, getting a loan, or seeking out options such as scholarships or sliding scales.
Individualized treatment plans. One size does not fit all when it comes to addiction treatment. A quality facility will consider many factors about the patient (drug of choice, severity of addiction, prior treatment attempts, co-occurring disorders, etc.) and design a treatment plan specifically for them.
Location. The location of a rehab facility is important if the patient must travel there, reside there, or plans to have family involved in the treatment process. Some Brandon, FL residents prefer to stay very close to home while others may need at least some distance from their home environment to focus on their recovery.
Planning for aftercare. Aftercare is beneficial to long-term sobriety. The facility you choose should include aftercare planning as a part of the overall treatment plan.
How To Start Detox and Rehab
Once the patient has chosen a rehab facility, it's important to verify that they can use insurance for addiction treatment. If their insurance is out of network, many facilities will help the patient find ways to pay for rehab, including loans  or financing options such as a payment plan.
If you'd like to know if your insurance is accepted at River Oaks Treatment Center, you can use our
Are You Struggling With Addiction?
Are You Struggling With Addiction?
Take our substance abuse self-assessment quiz and take the first step towards recovery. Our quiz is quick and confidential.
The State of Addiction in Brandon, FL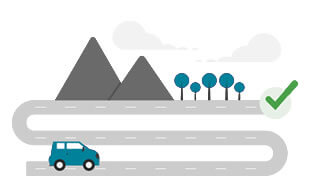 The State of Addiction in Brandon, FL
In Hillsborough County, there were 267 overdose deaths in 2018, 210 of which involved opioids.3 In that same year, EMS responded to 4,115 overdose calls, of which 1,194 involved opioids and were treated with Narcan, the opioid overdose reversal medication.4
While opioids continue to cause concern, alcohol is also a problem for Brandon residents. In 2018, 19% of adults in Hillsborough County reported heavy or binge drinking over a 30-day period.5 Between 2015-2019, there were 261 deaths attributed to alcohol-related automobile accidents.6
Local officials along with health care providers are working diligently to reduce these numbers.
What Makes Us Unique
Industry Accredited, Exceptional Care
We hold ourselves to the highest standards, and it's apparent in our A+ rating with the Better Business Bureau and the accreditations and memberships we hold.
We've Supported Thousands With Their Recovery
I had a great experience. I came in to complete 30 days in recovery from Alcohol and Marijuana abuse and felt great since the first week I got here. Now that I have completed 30 days I feel ready to stay sober and
more
continue this new beginning. The staff is amazing and the people I have met here really helped motivate me in my recovery. I am grateful for this experience.

less