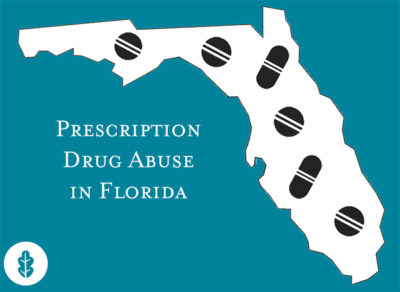 The United States has struggled with prescription drug abuse in various forms for decades. The most recent epidemic predominantly involves prescription narcotic painkillers, which are chemically similar to heroin. Since the early 2000s, these drugs have been widely prescribed to treat moderate to severe pain, in many cases with the intention that the individual would heal and stop taking them.
Unfortunately, greater access to opioid painkillers has led many Floridians to develop addictions to these drugs. With tighter restrictions on the prescription, diversion, and sale of opioid drugs, many of these individuals have turned to heroin rather than struggle to get oxycodone or hydrocodone drugs. Many people in Florida also struggle with addiction to other types of prescription substances, including benzodiazepines and stimulants.
Although the southern state's Prescription Drug Monitoring Program (PDMP) and strict laws against pill mills have helped slow the increase in prescription drug addiction, there are still many people who suffer form this condition in Florida.
Florida's Decade of Prescription Drug Abuse and Death
A report from National Public Radio (NPR) in 2011 stated that, at the time, Florida was the center of the US's prescription drug abuse epidemic with opioids surfacing as the leading problem. In fact, areas of the state with severe opioid addiction and overdose problems were referred pejoratively to as "The Oxy Express," largely due to the startling rise of pain management clinics that were essentially barely legal drug distribution fronts.
Since these reports surfaced, Florida has taken many steps to improve its prescription drug abuse problems. In March 2018, Governor Rick Scott signed the latest piece of legislation aimed at preventing people with prescription painkillers from developing an addiction to these substances with the help of pharmacists and physicians.
Unfortunately, the Sunshine State still battles prescription drug abuse and death. The Centers for Disease Control and Prevention (CDC) reports that, between 2015 and 2016, Florida was one of the states with a significant increase in drug overdose deaths. From the previous year's stats, the state experienced a 46.3 percent increase, which was overshadowed only by Maryland's increase of 58.9 percent. However, in the 2014-2015 measurements, Florida also saw a statistically significant increase with 22.7 percent more drug overdose deaths. In 2016, there were about 4,728 overdose deaths in the southern state; in 2015, there were 3,228 deaths; and in 2014, there were 2,634 deaths.
According to the Florida Department of Law Enforcement's Medical Examiners Commission report for 2016, opioids and benzodiazepines were the two prescription drugs most commonly found in overdose deaths. Prescription versions of amphetamine and methamphetamine were not separated in the autopsy reports, and the only other prescription drug that caused deadly harm was zolpidem, the active medication in Ambien.
 The commission noted that prescription drugs, which they listed as benzodiazepines, carisoprodol/meprobamate, zolpidem, and all opioids aside from heroin and fentanyl, were more often the causes of or present at death than illicit drugs like cocaine, marijuana, or hallucinogens.
Commonly Abused Prescription Drugs in Florida
Opioids: In 2016, illicit fentanyl, related analogs like carfentanil, and heroin collectively led to over 4,000 overdose deaths; however, morphine, oxycodone, hydrocodone, and methadone were also involved in almost 5,000 deaths. These prescription drugs have triggered addiction and substance abuse in numerous Floridians for over a decade. Even though they are tightly restricted in the state now, they are still widely diverted and abused.Overdose death statistics for prescription opioids are outlined below:
Morphine was involved in 2,040 deaths, causing 1,338 deaths.
Oxycodone was involved in 1,382 deaths, causing 723 of these deaths.
Hydrocodone was involved in 692 deaths, with 245 of those caused directly by this medication.
Methadone was involved in 499 deaths and directly caused 330 deaths.
Codeine was involved in 509 deaths and caused 87 deaths.
Tramadol was involved in 510 overdose deaths, and it was the direct cause of 144 deaths.
Florida's long-running problem with opioid drugs stemmed from pill mills or unregulated pain management clinics, which prescribed huge amounts of opioid drugs and also often prescribed benzodiazepines alongside these medications. The Drug Enforcement Administration (DEA) reported that, in 2010, there were over 900 of these clinics across the state, employing 90 out of the top 100 oxycodone-dispensing physicians in the US. Since 2012, Florida has dramatically tightened laws around these clinics and implemented the PDMP to reduce the number of abused or diverted prescriptions. However, as displayed in the overdose data, prescription narcotics are still very widely abused across the Sunshine State.
 Still, the PDMP for Florida has reported a 41 percent drop in oxycodone deaths alone, so more benefits should become evident in the next few years.
Benzodiazepines: These anti-anxiety, insomnia, and epilepsy medications are widely abused because they act quickly on the same receptors as alcohol. In standard prescription doses, when used as directed by a medical professional, benzodiazepines can prevent panic attacks or seizures and help patients relax enough to get some sleep. However, they are also easily abused, and they are often mixed with alcohol or opioids to increase the feeling of intoxication; this practice can quickly lead to overdose.The most common benzodiazepines found in overdose deaths were:

Alprazolam (Xanax): 1,851 deaths total with the drug listed as the direct cause in 813 instances
Clonazepam (Klonopin): 546 total deaths, causing 95 directly
Diazepam (Valium): involved in 664 overdose deaths with 183 caused by the drug directly
Lorazepam (Ativan): 241 overdoses involving the drug with 32 caused by it directly
Temazepam (Restoril): involved in 511 overdoses, 101 of which were directly caused by the drug

The Florida Department of Health reports that, for the 2016-2017 reporting period, benzodiazepines were not widely prescribed to young adults, but after age 25, they are prescribed increasingly. People 65 and older receive the greatest number of prescriptions for these potent drugs. Women are also much more likely to receive a prescription for a benzodiazepine compared to men.

Stimulants: The Medical Examiner's report did not specify the difference between illegal and prescription versions of amphetamines and methamphetamine, but it is likely that Ritalin, Adderall, and Vyvanse were present as drugs of abuse in some of the 640 amphetamine and 621 methamphetamine deaths. The 2016 Florida Youth Substance Abuse Survey found that lifetime prevalence of prescription stimulant abuse among the state's adolescents was about 3.2 percent; this includes teenagers who tried the drugs once, and those who abuse them regularly. High school seniors were the most likely to abuse prescription amphetamines with a lifetime prevalence of 6.4 percent. About 1.2 percent of these adolescents abused prescription stimulants in the past month, although there has overall been little change in rates from 2004 to 2016.
Other sedatives: Zolpidem, sold predominantly under the brand name Ambien, was involved in 248 overdose deaths, and it was attributed as the cause of 58 overdose deaths.

Changes to Prescription Drug Laws in Florida

Because of changes to how medications are prescribed in the southern state, many surveys show that adolescents are less likely to abuse these drugs than they were 10 years ago. For example, the 2016 FYSAS found that, among high school students, past-month abuse of prescription painkillers and prescription amphetamines was 2 percent or less. Even better, more than two-thirds of respondents reported that taking a prescription drug without a prescription or smoking cigarettes posed great risk of harm. Most students reported that they and their friends agreed that using various drugs was wrong with 92.7 percent reporting it was wrong to take prescription drugs without a doctor's order.

However, youth substance abuse still reflected adult struggles in Florida. The survey also reported that prescription opioids and depressants were abused among adolescents at higher rates than illicit drugs except for marijuana and inhalants. The group of prescription depressants was the only pharmaceutical drug category among Florida's adolescents in which prevalence of abuse increased.

Resources for Florida Residents Who Need Prescription Drug Addiction Treatment

Although many Florida residents struggle with addiction and substance abuse, there is a lot of help available through medically supervised detox and evidence-based rehabilitation across the state. These resources can be found through an online search, the help of the Department of Health, and even through national agencies like the Substance Abuse and Mental Health Services Administration (SAMHSA).

In fact, SAMHSA is an incredible resource for anyone who struggles with mental or behavioral problems, including addiction, or who has a loved one who struggles with these conditions. SAMHSA manages a National helpline as well as an online treatment finder; they also support National Recovery Month to promote successful recovery from mental illness and addiction.

Psychology Today offers thousands of listings for psychiatrists, psychologists, social workers, and addiction specialists all over the United States. They keep a listing of Florida's addiction specialists and rehabilitation programs, which can be narrowed down by what type of insurance the program accepts, whether it is a short-term or long-term program, and what other forms of treatment are part of the program.

The Florida Alcohol & Drug Abuse Association (FADAA) is a nonprofit organization that provides certification to member programs, ensuring a specific high level of quality care in their centers.

The Florida Department of Health manages the Substance Abuse and Mental Health (SAMH) Program within the Florida Department of Children and Families (DCF), so many of the state's rehabilitation programs provide support for families, adolescents, and pregnant women.

---

It's Never Too Late to Get Help
Take Action Now